President Emily Matthews called the meeting to order promptly at 12:15.
This Week:
Nancy Bush
led the Pledge of Allegiance, with an assist from Annie Rose Bush, no doubt.
Lage Anderson
led the invocation, reciting the poem
Desiderata by Max Ehrmann
. The final lines of the poem are ones we should remember on this rainy day: "Be cheerful. Strive to be happy."
Announcements: We had a number of guests for today's presentation, including Christine Krolik's husband Jeff (today's speaker), and her City Council colleagues Sophie Cole, Marie Chuang, and Al Royse. Hillsborough City Manager Ann Ritzma, Hillsborough Finance Director Jan Cooke, former Hillsborough Mayor Tom Kasten, Rachel Ni, and Brian Schilling also joined the 32 Rotarians who participated today.
President Emily and team gave us some important reminders:
Bryan Neider let us know that the Community Service Committee committee is working to promote the County Human Services Agency's Veterans Needs Assessment and Outreach Study. The survey link will be announced and added to the Club's website under the new heading of "Community Service Opportunities." The Committee is also working on Teens and Seniors and Burlingame Helping Hands. They will be inviting interested senior members to share a favorite recipe with students who will be compiling a special cookbook that will be sold to the local community as a fundraiser for CALL Primrose. There are two future opportunities the committee will be discussing: contributing to a Burlingame Rotary naming opportunity for the new Burlingame Community Center, and commemorating the College of San Mateo's 2022 Centennial in some way. The community service committee won't be doing a Rebuilding Peninsula project this year. After Bryan's presentation, President Emily showed some thank you cards she'd received from Boys & Girls Club kids who received donations from Burlingame Rotary.
Sheryl Young announced that this is Women's History Month, and Monday was International Women's Day. To that end, Sheryl joined Emily's President's Club in honor of her new granddaughter. Congratulations to Sheryl and the whole family!
Happy hour will be Friday @ 5.
Breakout Rooms:
President Emily sent us off to various breakout rooms to have some fellowship time. Round 1, Room 1 (Marilyn Orr, Michael Brownrigg, Paul Nieberding, and Lisa Goldman) reminisced about Hawaii. During Round 2, Room 2 (Nancy Bush, Christine Krolik, Jan Cooke, Paul Nieberding, and Lisa Goldman) talked about Burlingame's budget and the need to shop local!
Newcast: Fritz Brauner talked about where folks met their spouse/partner and asked us to share via chat where we met our significant other. Jerry Winges met his sweetie in 1970 at the airport in Puerto Rico on the way to Peace Corps training camp. President Emily met Tim at a "pink slip happy hour" in Newport Beach. Bob Doerr met his wife at the Whittier YMCA when she was 14 and on the swim team, and he was 21 and coaching basketball. Don't worry—they were just friends for years and married 10 years after meeting. Paul Watermulder met his wife in Nashville at an American Red Cross blood bank, 53 years ago. Nancy Bush met her ex-husband (a pilot) in line for a plane in Chicago.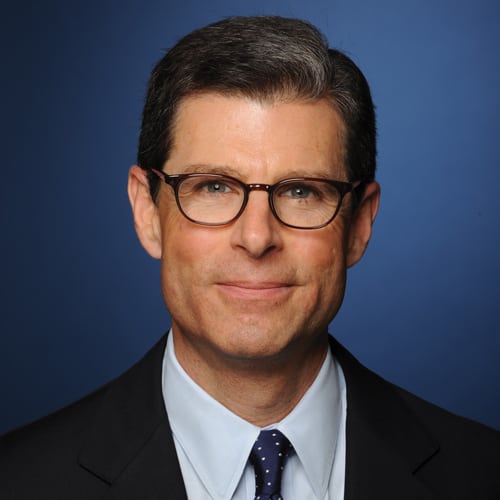 Program:
Christine Krolik introduced her husband Jeff Krolik, whom she met in line at the Port Authority Bus Terminal. Jeff worked for HBO for 15 years, then went to Fox Sports, eventually becoming President of Fox Sports Regional Networks. In that job, he traveled constantly and oversaw deals with 44 MLB, NBA, and NHL teams. Jeff is now a Principal with JB Sports Consulting.
Jeff shared a PowerPoint presentation that started with a photo from a Warriors game, where he was in the background of a shot, right next to Coach Steve Kerr. (Who else is jealous?)
Jeff describes the sports business as the "best worst business in the world." People get into the sports business to win world championships. Profit is a secondary factor. They often operate at a loss or barely break even. Payroll is the biggest expense for most teams.
However, team valuations continue to rise, so even if you're running at a deficit, your asset value continues to grow. There's an expanding pool of potential owners but not a lot of teams to buy, so the valuations rise. Teams are asset rich and cash poor. The irony is your investment only pays off when you leave the business by selling your share.
The NFL is in a league by themselves. They make money and grow the asset value because of the high television revenues. All of the television revenues are split equally among the 32 teams. The number is eye-popping, about $7 billion, and it is projected to nearly double.
Sports rotate in popularity. 75 years ago, horse racing, heavyweight boxing, and baseball were the biggest sports in the US. Jeff wonders if there will be a backlash in football since parents aren't letting their kids play as much as they used to because of health concerns. Will soccer become as popular here as it is elsewhere in the world?
After Jeff's overview, Christine and the group asked Jeff some questions about his business, college athletes, and all things sport.
President Emily closed out the meeting by giving Jeff a virtual certificate and adjourning the meeting. Today's meeting was not recorded.